Campaigns transitioning between election cycles, may need to report debt retirement funds for the past cycle for a period of time. To make that process easier, be sure to try the Crimson Debt Retirement settings found in Fund Code Fundraising Settings.
Enable Debt Retirement Setting By Fund Code
Select Fundraising from the left side Main Menu of Crimson.
Click on the Money Setting option found on the Fundraising Dashboard Navigation Bar.

Select the Fund tab from the top of the new screen.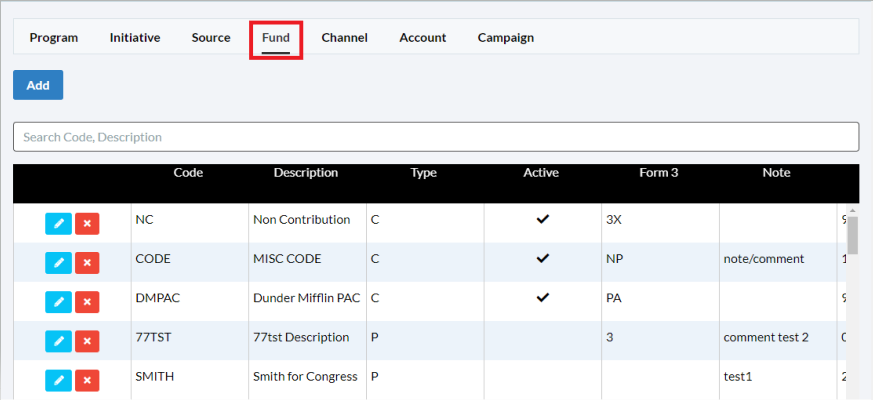 Click on the button to open the Fund Code that needs the debt setting to be applied to.
Check the Debt Retirement box.
Fill in, or use the calendar selector to select, the Debt Retirement Start On date.

Click when done.
How Debt Retirement Reports in CrimsonFiler/FEC Export
If you have enabled the debt retirement feature, donor aggregates will pull differently for your FEC report data based on how you import/pull your fund codes. See below for options:
- New Cycle Transactions – Debt enabled fund codes should be imported into CrimsonFiler (or exported via the FEC Export) together with current cycle fund codes. The aggregate will then reflect the total amount donated by each donor for the past cycle on or after the debt retirement date with the total amount raised for the new cycle fund codes.
Create your FEC report
Click Import From Crimson
Select the debt retirement fund code AND the current cycle Fund Codes first (Ex: G2018, P2020, G2020), then import.
Recalculate your report and review your data like normal
Example Result:
Campaign enabled debt retirement for the G2018 fund code on 11/7/2018
John Smith Donated:

09/21/2018 | G2018 | $2,200
01/13/2019 | G2018 | $500
02/10/2019 | P2020 | $2,700

Campaign Imported G2018, P2020, and G2020 together for their Q1 2019 report
John Smith Aggregate for Q1 report = $3,200
Automated Memo Text: "DEBT RETIREMENT"

NOTE: You do not need to add memo text during data entry. The FEC pull will automatically include this for you.
- Post General Reports – Since Post General reports crossover two cycle periods (ie. 2018 and 2020), you will want to be sure your aggregates are separated by cycle during the import/pull. To do so, you should use the Advanced Aggregate Feature:
To start using the feature, create a new report or navigate to an open report in

CrimsonFiler. If you need assistance creating a report, please read

Creating an FEC Report.
Click

from the main page or navigate to the specific schedule you want to import into.
In the window that opens, select which

Fund Codes

you wish to import.
After you have selected your

Fund Codes,

Aggregate

options ranging from 1 to 4 will appear. Note that the default selection is 1. If all your

Fund Codes

can be aggregated together there is no need to take any further action and you can continue with your import.
Use the options provided to choose which fund codes will be aggregated together.

Fund Codes

with the same aggregate number will be totaled together.
For example, if importing data from two election cycles, your selections might look like below. In this example, P2018 and G2018 will be aggregated together, separate from P2022 and G2022: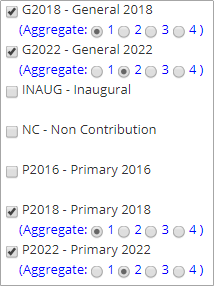 When you have selected the desired aggregate options, click

at the bottom of the window and proceed with filing your report.
- Yearend Report Special Case – Clients who receive chargebacks during the Year End reporting period, and who are not reporting debt retirement, will want to be sure to pull the old and new cycles separately for Year End reports as well.