The FEC Export feature on the Compliance Dashboard's Navigation Bar allows you to export an Excel of transactions (ie. receipts or expenditures) with all of the information that should be reported to the FEC. This allows you to review your data before ultimately uploading it into your FEC report in CrimsonFiler.
The data pulled in a FEC Export contains the same information that you would normally see imported into your FEC report if you used the Import from Crimson button in CrimsonFiler.
With the FEC Export, you can select the following options:
Report type: Form 3, Form 3X, Form 6, Form 24, etc.
**Please note: Certain report types will give you additional options in terms of exporting data. For example, the Form 6 and Form 24 types will allow you to export transactions that may have already been marked as reported in previous exports/Imports from Crimson. To do this, you will need to check the "Include reported" checkbox.
Cover Period dates: YE – Quarterly Year End 10/1/18 – 12/31/18, MYE – Monthly Year End 12/1/18 – 12/31/18, etc.
**Please note: The dates can be manually updated if the default dates for the cover period you have chosen do not apply.
Transaction Type: Contributions, Expenditures, Other Receipts, Independent Expenditures, etc.
Fund codes: P2018, G2018, C (PAC), JFC, etc.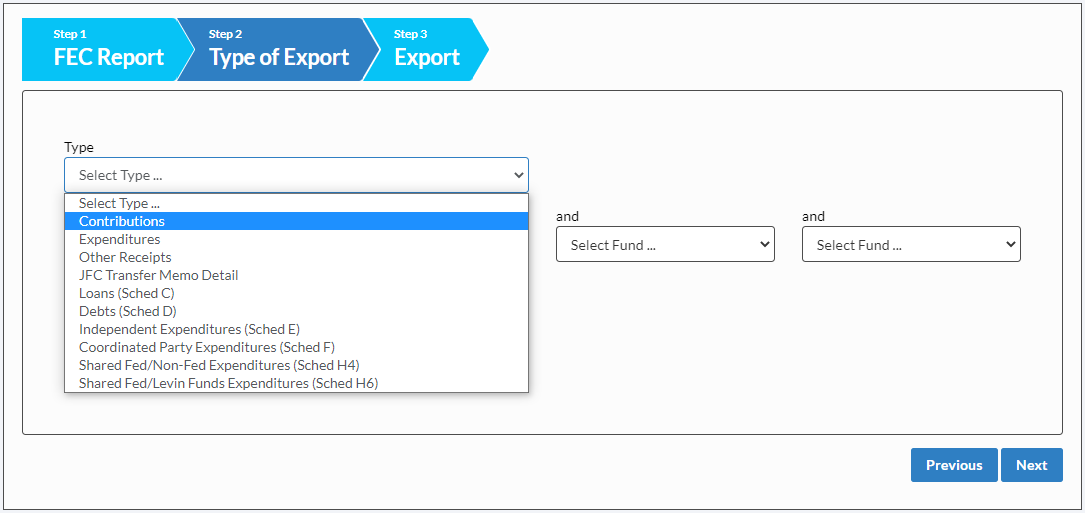 **Please note: Refer to the Crimson Filer: Creating a FEC Report guide on the HelpDesk for more details about how to import data from an excel file directly into a FEC report in Crimson Filer.