Crimson allows you to manage each Invitee of an Event. You can open an existing event via the Event Search or Event Dashboard. Once an event is opened, navigate to the Invitees' tab to view your invitees.
For information on how to add new Event Invitees, please see the guide on the Event Import and adding via the People Record.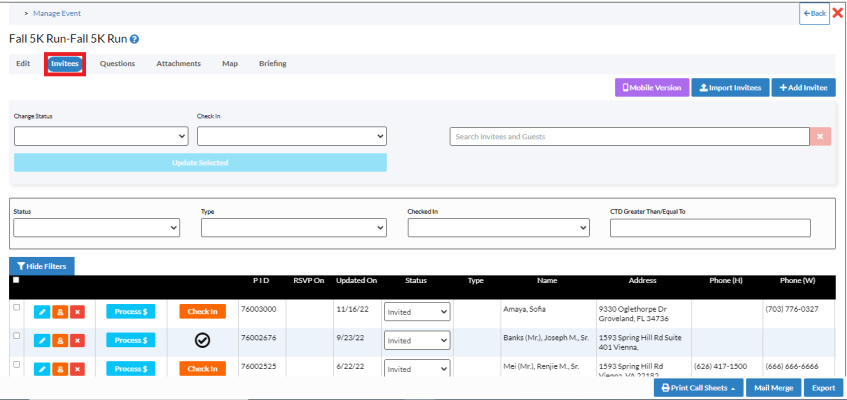 Edit
There are two ways to edit an Invitee. The first is to edit directly from the Invitees' tab. From here, you can access several edit options using the icons.
will open up the full Edit Event Participation
will open up the Invitee's People Record Profile
will remove the record from the Event.
open

s

up

the

Payment Processing

window, allowing you to add ticketing information by processing a contribution or saving a Pledge.

can be used to check in the

Invitee

on the day of

the event.

allows you to adjust the Event Status for the Invitee. Manage the statuses in People Settings.
To access all edit options, including those above, click

next to any Invitee's record. This will open a new window, Edit Event Participation, the second option for editing an Invitee from the Event Module.
Click the button to process a credit card for the

I

nvitee now or create a pledge for the

I

nvitee for this event. For more information on Payment Process

ing

, please see the guide. Click the button to mark the

I

nvitee as checked in to the event.
To update an

I

nvitee's Status, open the drop-down

list

and select the new status from the available options.
From this tab, you can also change the

optional Invitee fields

for

RSVP date, Comment

s

, Table #, and Invitee Type. Click

to update the Invitee.
***Note: You can manage the Event status and the Invitee Type options from People Settings***
Questions

You can edit the Invitee's answers to each question assigned to your Event from this tab. Click on the blank space to the right of any question to open the field to type in your answer. To save, click

.

Payments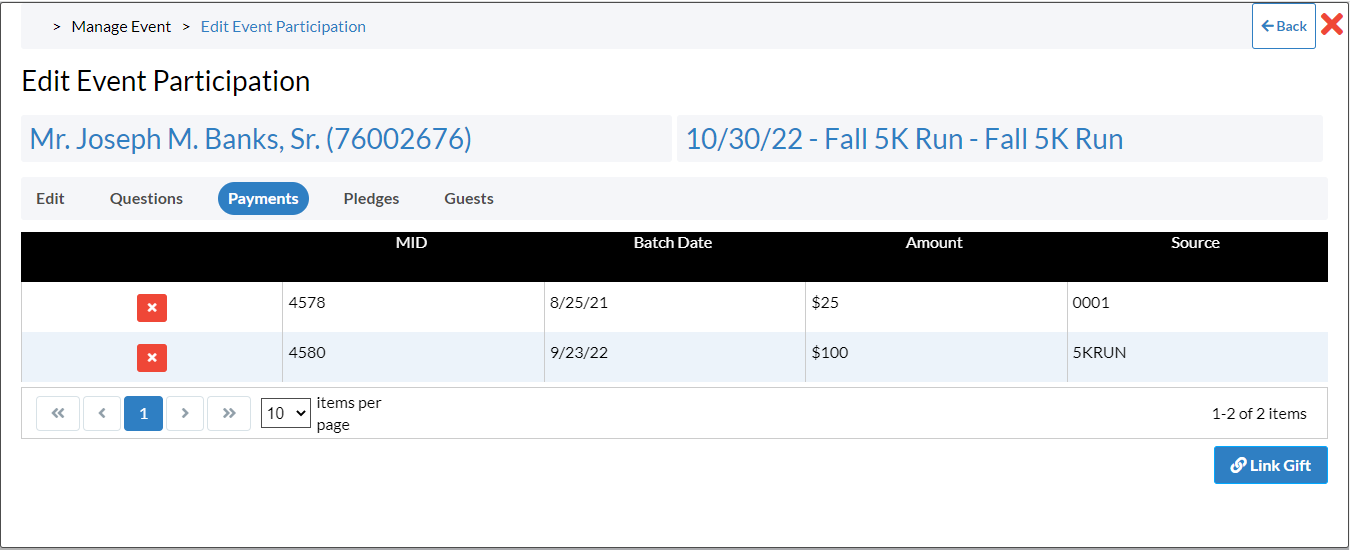 This tab lets you view existing payments connected to this Event for the Invitee and add new ones.
To Link a Gift, click the button.

This brings up a list of the Invitee's gifts. To link

a gift

, click

.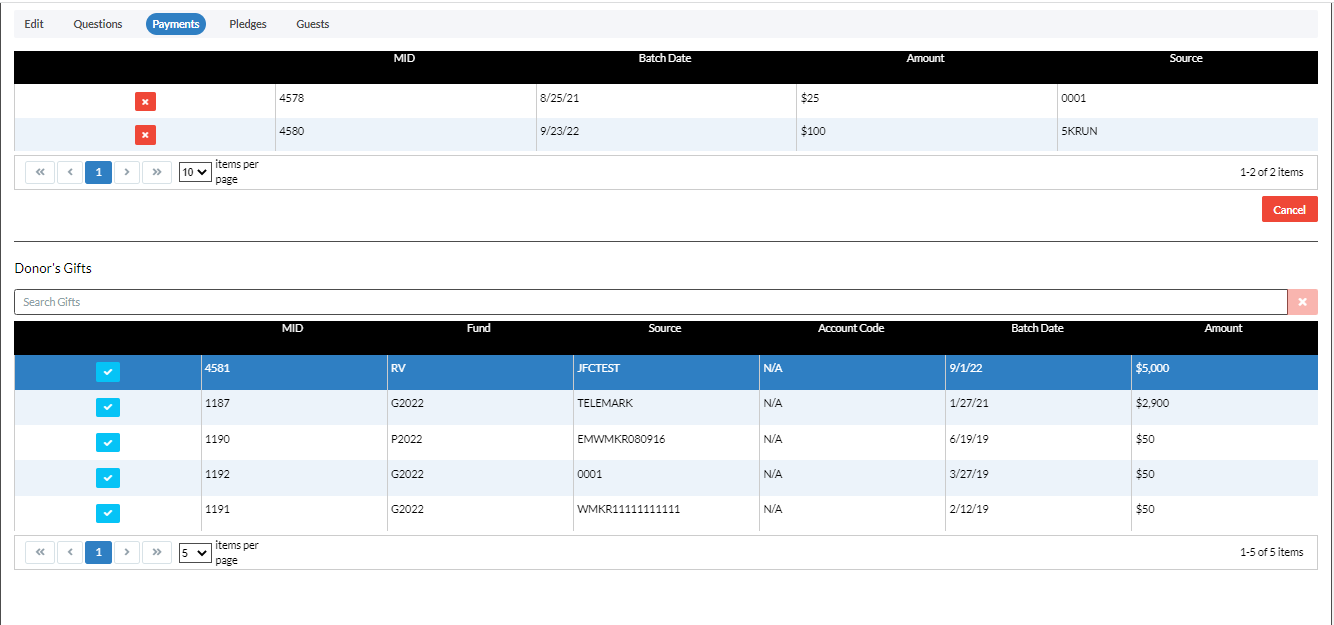 You can also Unlink a payment. To do so, go to the payment you wish to unlink and click .
Guests

To add a New Guest, click the button, fill out the necessary information in the Add Guest window and click either , prompting you to create a new People Record , or , which will

just add the information as a Guest

.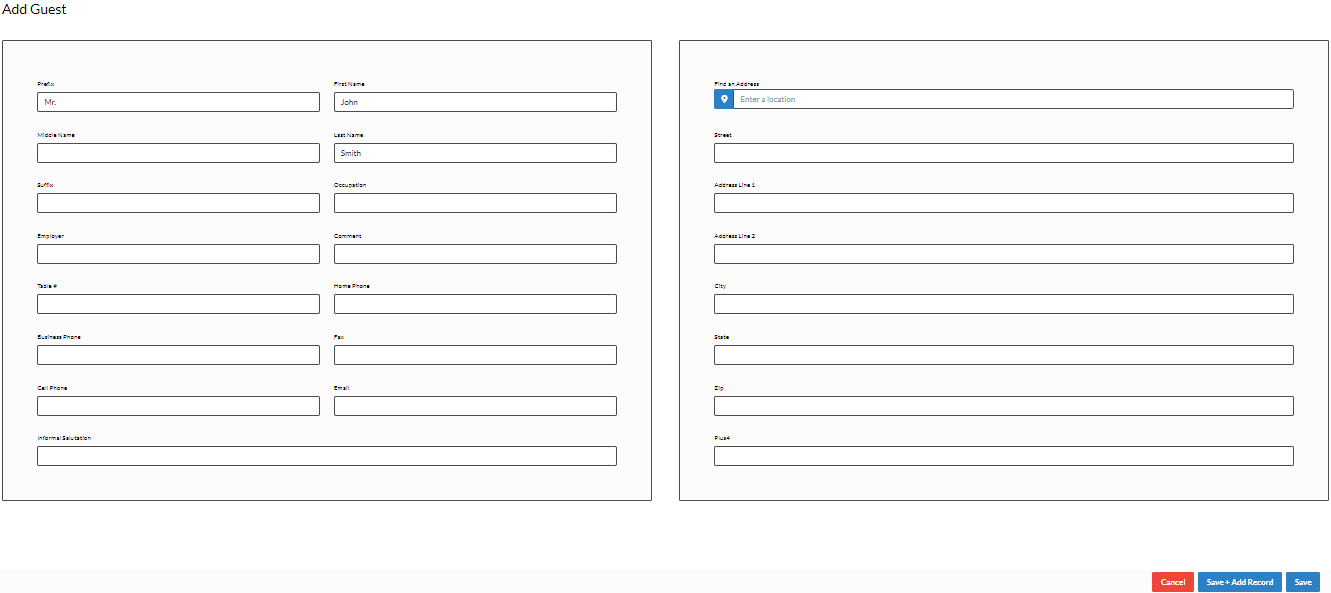 If the Invitee has Contacts linked to its People Profile, you can Add Contact as Guest by clicking the button and selecting the Contact from the list using the .