Running a search for Actions is similar to all other searches found throughout Crimson, with filters designed specifically for Actions. This tool will allow you to search for Actions assigned to People Records.
To find the Action Search, go to the People Dashboard and click on the

icon in the Navigation Bar.

The search will provide transactional results, meaning a People Record may appear multiple times if they have multiple actions that match the filters.

Action Filters
Action Category – Search for actions within an Action Category

.

Action – Search specific action

(

s

).

Having All Action Categories and Having All Actions – Similar to the above, but you are searching for what matches

ALL of

the categories or actions that you list.

Action Date – Date

or date range

of the action

(

s

).

Action Source Code –

Action with a specific source code.
Custom Field Name and Value – Search by the Custom Fields created for the action

(

s

)

. First, add the Custom Field name in the first box, then the second in the Value for the field.

These must be identical to what is in Action Settings.

Custom Field Name and Value Greater Than and Custom Field Name and Value Smaller Than – Same as above but will search for action

s

that

have field value that is

greater or smaller than the value entered.

There are also two Suppression Filters:

Action – suppresses any

desired

actions

.

Having All Action Categories – suppresses

People Records that have

all actions listed

.

When you run the Action Search, your results will populate with the actions that fit the selected filters. The results will display the Action ID, Action Category, Action, and the Date the Action was assigned. You will also see information of the People Record displayed.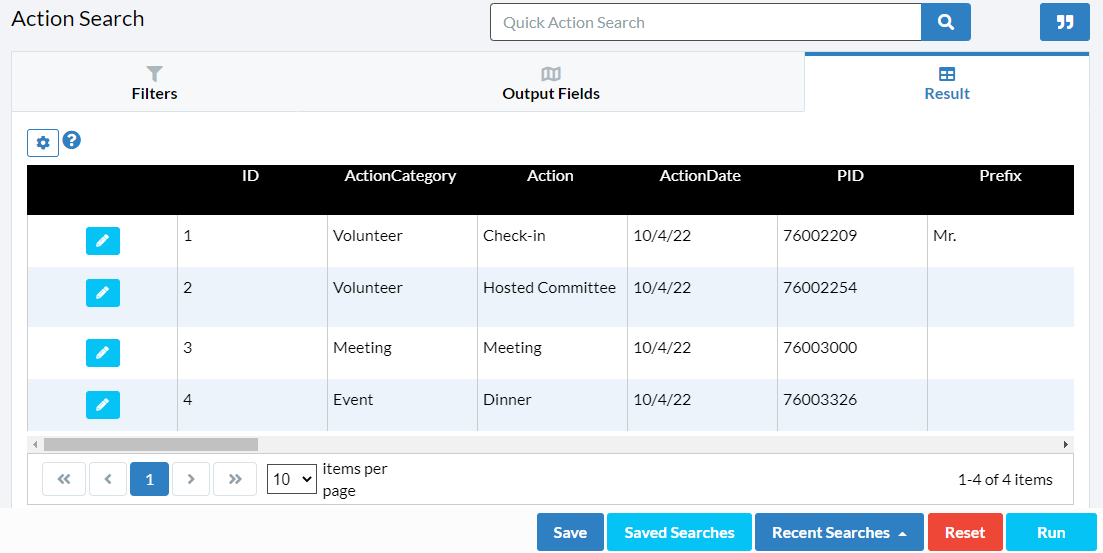 NOTE: For more information on Actions, see Crimson: Actions.